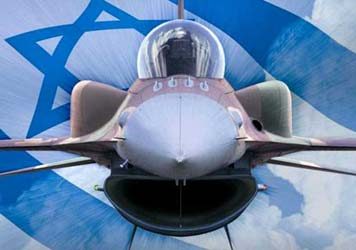 If only we were talking about the World Cup. Based on Saudi military sources, Hugh Tomlinson, in the
Times
claims Saudi Arabia has given Israel 'clear skies to attack Iranian nuclear sites'
Saudi Arabia has conducted tests to stand down its air defences to enable Israeli jets to make a bombing raid on Iran's nuclear facilities, The Times can reveal.

"The Saudis have given their permission for the Israelis to pass over and they will look the other way," said a US defence source in the area. "They have already done tests to make sure their own jets aren't scrambled and no one gets shot down. This has all been done with the agreement of the [US] State Department."
Sources in Saudi Arabia say it is common knowledge within defence circles in the kingdom that an arrangement is in place if Israel decides to launch the raid. Despite the tension between the two governments, they share a mutual loathing of the regime in Tehran and a common fear of Iran's nuclear ambitions. "We all know this. We will let them [the Israelis] through and see nothing," said one.
Read more
here
Haaretz carries the same report today
Saudi Arabia gives Israel air corridor to bomb Iran
Passing over Iraq would require at least tacit consent to the raid from the United States, whose troops are occupying the country. So far, the Obama Administration has refused this.
On Wednesday the United Nations passed a fourth round of sanctions against Iran in an attempt to force it to stop enriching uranium. But immediately after the UN vote, Iranian President Mahmoud Ahmadinejad vowed the nuclear program would continue.
Israel hailed the vote – but said sanctions were not enough and Prime Minister Benjamin Netanyahu has refused to rule out a raid.
Netanyahu's predecessor, Ehud Olmert, is believed to have held secret meetings with high-ranking Saudi officials over Iran.
A day later, in
Haaretz
, Prince Mohammed bin Nawaf refuted the Times of London report.
Prince Mohammed bin Nawaf, the Saudi envoy to the U.K. speaking to the London-based Arab daily Asharq al-Awsat, denied that report, saying such a move "would be against the policy adopted and followed by the Kingdom."

According to Asharq al-Awsat report, bin Nawaf reiterated the Saudi Arabia's rejection of any violation of its territories or airspace, adding that it would be "illogical to allow the Israeli occupying force, with whom Saudi Arabia has no relations whatsoever, to use its land and airspace."