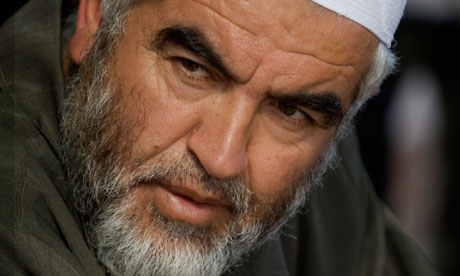 The arrest of such a high-profile and well-respected Palestinian leader will, inevitably, damage relations between the Muslim community and other sections of British society.Human rights campaigners and community leaders have condemned the late-night arrest of Sheikh Raed Salah by the UK Border Agency on 28th June. Sh. Raed is the leader of the Islamic Movement in Israel and he is in Britain for a speaking tour which was to include meetings with parliamentarians, academics and public meetings on the plight of Palestinians living in Israel and Jerusalem. He has been served with a deportation order under Section 3 of the Immigration Act. The arrest appears to be the result of an orchestrated libellous campaign in the right-wing, pro-Israel media and bears all the marks of a political rather than a legal measure to curb freedom of speech. The arrest of such a high-profile and well-respected Palestinian leader will, inevitably, damage relations between the Muslim community and other sections of British society.
Sheikh Salah is renowned for his non-violent approach to the protection of Palestinian rights in Israel and the occupied Palestinian territories. Home Secretary Theresa May has clearly succumbed to pressure from the pro-Israel Lobby in Britain to prevent Sh. Salah from being able to give a first-hand account of the discrimination faced by the so-called "Israeli-Arab" community; Israel's Palestinian citizens who constitute 20% of the total population in the state.
Sh. Salah's visit was trailed three weeks in advance by MEMO and his talks have been advertised widely, prompting an aggressive media campaign to have him stopped from entering the country.
As a result of the accusations against him, legal steps are being taken by lawyers acting on behalf of Sh. Salah in respect of some of the allegations made against him in at least two national newspapers.
It is astonishing that neither the Home Office nor the Metropolitan Police sought clarification and further information from any of the organisations involved; nor, indeed, did either express their concerns that his presence in the UK might be a threat to public order.
Raed Salah is an Israeli citizen who is, presumably, free to travel as far as his own government is concerned, and has never been held by the Israeli authorities on any of the charges levelled at him by the Israel Lobby in Britain. It is astonishing, therefore, that the British government, which espouses democracy and freedom to the extent of going to war to uphold those values, is now denying freedom to someone on the basis of unsubstantiated allegations and media hype. The deportation order should be rescinded immediately. Without solid evidence this entire saga makes a fiasco of the British legal system.
Signatories:
Middle East Monitor [MEMO]
Friends of Al Aqsa [FoA]
British Muslim Initiative [BMI]
Interpal
Palestine Solidarity Campaign [PSC]
Palestine Return Centre [PRC]
Lindsey German, Stop the War
Ben White, Writer and Activist
Mohamed Ali, CEO, Islam Channel
Global Peace and Unity [GPU]
Mohammed Asif, Engage
Amos Trust
Victoria Brittain, Journalist and Writer
Reverend Dr. Stephen Sizer
Israeli Committee Against House Demolitions [ICAHD]
Yvonne Ridley, European President of the International Muslim Women's Union
Dr Robert Lambert, Co-Director, European Muslim Research Centre, University of Exeter and Lecturer at the Centre for the Study of Terrorism and Political Violence, University of St Andrews
Federation of Muslim Organisations of Leicestershire
Islamic Forum of Europe
For an update see the
Guardian
In an earlier
Guardian
article published this morning, Tayab Ali, who is acting for Salah, said:
"The detention last night was pursuant to section 3 of the Immigration Act 1971 which was that the secretary of state felt that deportation of my client was conducive to the public good. "It is our view that the basis for that deportation order is without merit and interferes with our client's article 10 right to freedom of expression. We will be strongly challenging the deportation order in the British courts."
Sarah Colborne, director of the Palestine Solidarity Campaign in London, said she was appalled by the decision to detain Salah. "This is a legitimate organisation which Israel has never moved to ban. Raed Salah regularly speaks at venues across Israel, where he has considerable support amongst the Palestinian citizens of Israel, who make up a fifth of the population." He had been elected mayor of his home town, Um al-Fahm, three times and never been convicted of anti-semitism in Israel.
Colborne said Salah had asked his legal team to take action against those in Britain who had made allegations of anti-semitism against him before his arrival. "The attempt to remove Sheikh Raed Salah from this country while he is taking legal action against those who have been defaming him is an obstruction of the course of justice," she said. Colborne said the Home Office, when contacted by Salah's legal team, refused to confirm or deny the ban.