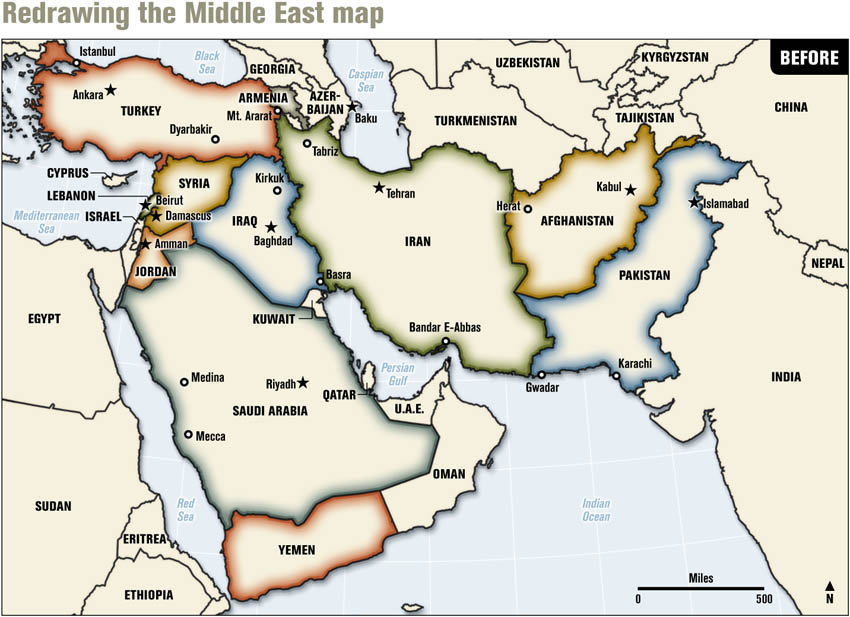 After an early morning Sunday service about five years ago, as people were leaving, a member of our church family shook my hand and mentioned he had just got back from a meeting in Washington. A senior officer in the British army, he had been at a meeting of NATO staff at which a new set of maps of the Middle East were presented by Lieutenant Colonel Ralph Peters. Maps proposing changes to borders based on blood lines rather than Colonial favours to create a more peaceful Middle East.
He was, I still remember, almost speechless at the presentation, pessimistic that imposing even a single border change in the Middle East would heighten not lesson tensions. I forgot about the maps but last week, with US military personnel going to Israel for war games, an American member of our church family reminded me of the maps and we speculated on whether they, or the reasoning behind Ralph Peters' presentation, are still, in any way, helping to shape US foreign policy in the Middle East.
The term "New Middle East" was used by U.S. Secretary of State Condoleezza Rice in a speech delivered in Tel Aviv in June 2006,
"[w]hat we're seeing here [in regards to the destruction of Lebanon and the Israeli attacks on Lebanon], in a sense, is the growing—the 'birth pangs'—of a 'New Middle East' and whatever we do we [meaning the United States] have to be certain that we're pushing forward to the New Middle East [and] not going back to the old one.
Roula Khalaf, writing for the
Financial Times
, notes the furore her comments caused coming so soon after the Qana massacre in Lebanon.
Ms Rice might have been simply reiterating US policy. But rarely has a phrase caught as much attention and provoked as much anger from radicals and moderates, who have seen in it a new and more determined American strategy aimed against Arab interests. Many analysts have made an association with the title of a 1993 book by the Israeli elder statesman, Shimon Peres. In the New Middle East, he argued that Jews and Arabs should develop economic relations to promote peace. It is an attitude, however, that Arabs have long regarded as an Israeli plot to control the Arab world without withdrawing from occupied lands...
Mostafa Kamel al-Sayed, an Egyptian political analyst, said the US had yet to understand Arab mentality or the nature of Hizbollah... "US policy has no credibility in the region, the talk of democracy has no credibility in the region, and the Lebanon policy was the last nail in the coffin," he said.
The maps were subsequently published in the
Armed Forces Journal
in an article by Ralph Peters, and reproduced by
The Centre for Democracy in Lebanon
.
Peters' writes:
International borders are never completely just. But the degree of injustice they inflict upon those whom frontiers force together or separate makes an enormous difference — often the difference between freedom and oppression, tolerance and atrocity, the rule of law and terrorism, or even peace and war.

The most arbitrary and distorted borders in the world are in Africa and the Middle East. Drawn by self-interested Europeans (who have had sufficient trouble defining their own frontiers), Africa's borders continue to provoke the deaths of millions of local inhabitants. But the unjust borders in the Middle East — to borrow from Churchill — generate more trouble than can be consumed locally.



While the Middle East has far more problems than dysfunctional borders alone — from cultural stagnation through scandalous inequality to deadly religious extremism — the greatest taboo in striving to understand the region's comprehensive failure isn't Islam but the awful-but-sacrosanct international boundaries worshipped by our own diplomats.
Peters acknowledges,
Of course, no adjustment of borders, however draconian, could make every minority in the Middle East happy. In some instances, ethnic and religious groups live intermingled and have intermarried. Elsewhere, reunions based on blood or belief might not prove quite as joyous as their current proponents expect. The boundaries projected in the maps accompanying this article redress the wrongs suffered by the most significant "cheated" population groups, such as the Kurds, Baluch and Arab Shia, but still fail to account adequately for Middle Eastern Christians, Bahais, Ismailis, Naqshbandis and many another numerically lesser minorities. And one haunting wrong can never be redressed with a reward of territory: the genocide perpetrated against the Armenians by the dying Ottoman Empire.

Yet, for all the injustices the borders re-imagined here leave unaddressed, without such major boundary revisions, we shall never see a more peaceful Middle East...
He suggests what the military has to do all the time.
As for those who refuse to "think the unthinkable," declaring that boundaries must not change and that's that, it pays to remember that boundaries have never stopped changing through the centuries. Borders have never been static, and many frontiers, from Congo through Kosovo to the Caucasus, are changing even now (as ambassadors and special representatives avert their eyes to study the shine on their wingtips). Oh, and one other dirty little secret from 5,000 years of history: Ethnic cleansing works.
Peters' concludes, "If the borders of the greater Middle East cannot be amended to reflect the natural ties of blood and faith, we may take it as an article of faith that a portion of the bloodshed in the region will continue to be our own."
Read more
here
And here are the Middle East maps enlarged:
Before
and
After
a little help from our friends.
And here is a suggested map for a more harmonious North America.