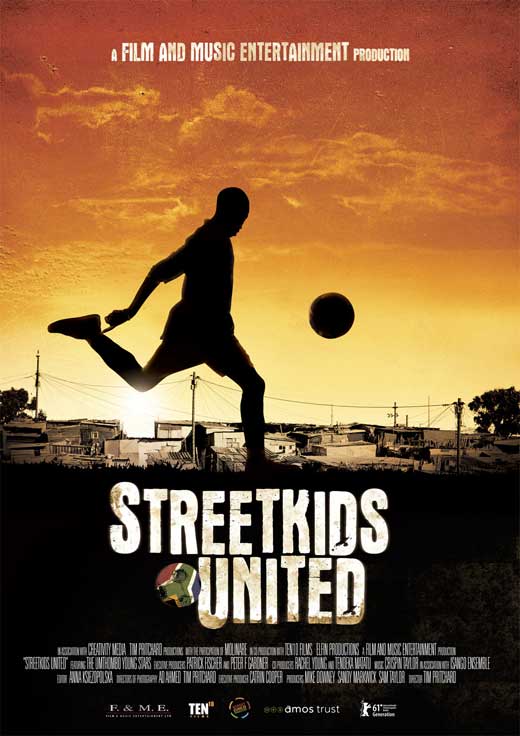 Street Kids United is a documentary feature about a team of homeless children, chosen to represent South Africa in the first ever Street Child World Cup. These children from the host Umthombo project see football as a way to a better and brighter future.
Andile, from the Umthombo organisation said:
"When people see us by the streets, they say that we are the street boys. But when they see us playing soccer, they say that we are people like them. They are people like us".
The film reflects the power of football to give those most marginalised and vulnerable children a voice to tell their stories and to share their hopes and dreams for a better life.
According to John Wroe, a founder of Street Child World Cup: "So many films are about celebrities; this was about people without power. There is no Hollywood twist in Street Kids United. All the kids at Umthombo are full of life and have stories which should be heard".
"No game lays claim to being a 'world game' more than football." says F&ME 's Mike Downey, "It is truly a globalised phenomenon from the glitter and riches of the European leagues to the dreams of children growing up in third world poverty. Football's appeal extends across nations, cultures, religion and class. We hope this film will do the same. And in doing so, give a voice to street children all over the world. "
Street Child World Cup
The UN estimates that there are 100 million children worldwide living and working on the streets. Each child has a story, each child has a goal and each child deserves a home away from abuse. Across five continents, through the power of football the Street Child World Cup unites their voices, shares their stories and demands their rights. No longer will these children be seen and not heard.
In 2014 the beautiful game returns to its spiritual home: Brazil. This time street children from up to 20 countries will be united. The teams will be drawn from a network of outstanding street child projects from around the world.
The participating children will be aged 14 to 16 and will all have lived on the streets. Boys and girls will take part in separate football tournaments. The event will involve teams from Africa, Asia, Europe, the Middle East, and North and South America.
Umthombo
Umthombo empowers street children and aims to change the realities that they face and make an impact on policy. It began as an outreach and aftercare organisation and has since grown to accommodate many of the children, giving them counselling and support. Umthombo's Durban model is pioneering the idea of providing alternatives to street life through engagement and therapeutic interventions and focuses on addressing the traumas associated with the children's experiences. Umthombo's team is a fusion of social working professionals and trained former street children who have a unique understanding of the realities of the street child experience