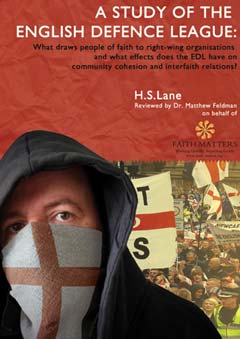 Faith Matters, a counter-extremism organisation, has published,
A Study of the English Defence League
. The 51 page report answers two important questions: "What Draws People of Faith to Right Wing Organisations?" and "What Effects Does the EDL Have on Interfaith Relations?"
Fiyaz Mughal,
OBE, Director of Faith Matters, insists, "Christian organisations should be doing far more to combat the appeal of far-right groups such as the English Defence League (EDL)."
He laments, "Christian institutions on a national level have not been robust in condemning the EDL, There is no national voice from the Church of England for example, universally condemning the actions of the EDL despite the fact the EDL disrupts and attempts to divide Christian and Muslim communities. Why?"
Mughal also urges that UK authorities need to examine how hate groups such as the EDL, which have the capacity to cause huge disruption on our streets, receive international funding.
"Links with Pamella Geller's Stop the Islamization of America campaign and the ability to raise funds from the US need to be put under the spotlight," he said. "People in the US promoting street-based social unrest in the UK by donating to the EDL is simply not on."
The main findings of
A Study of the English Defence League
are:
- The EDL uses mainly Christian symbolism in its promotion and publicity material,
- Some within faith communities believe that by allying with the EDL they can marginalise and stigmatise Muslims,
- Building community resilience against such hate is vital – anti-hate groups in other faith communities, such as the Luton Faiths Forum, Community Security Trust, the Turban Campaign and Sikhs Against the EDL, should be more fully supported,
- The UK government needs to look at how groups such as the EDL are financed internationally, via a network of supporters in the 'counter jihadist' network (particularly the USA),
- The Jewish Defence League needs to be effectively outlawed in the UK for inciting extreme hatred against Muslims.
See also
Fiyaz Mughal
writing in the Huffington Post:
Faith Hate: The EDL Targets Faith Communities for New Recruit
The Bishop of Norwich has taken a courageous stand against the EDL:
'You're not welcome': Church leaders' message to English Defence League
The church's General Synod passed a motion in 2004 stating that any political movement that seeks to divide our communities on the basis of ethnicity is an affront to the nature of God revealed in creation and scripture and is a grave danger to harmonious community relationships; consequently voting for and/or supporting a political party that offers racist policies is incompatible with Christian discipleship.
Tony Greenstein warns of the link between some within the Palestine solidarity movement and the Far Right:
Ken O'Keefe Believes Palestine Solidarity and neo-Nazism are Compatible
And here are two good blog posts from Richard Batholomew:
The EDL Has a Concern for Christianity, but Christian Concern Does Not Support the EDL
EDL Uses Express and Mail to Highlight Christian Complaints at SION Conference
And some earlier blog posts of mine critical of the BNP/EDL:
The Church and the BNP
Counter-Jihad Report from Hope not Hate
Counter-Jihad: The Cold War on British Muslims
The Jewish Chronicle and the BNP